What is Badoo?
Badoo is a social networking platform designed for dating, making new friends, and finding potential romantic partners. It was launched in 2006 and has since become one of the most popular dating apps in the world, with over 500 million registered users in 190 countries. Badoo is a free app that is available on both iOS and Android devices, and it allows users to create a profile with photos and basic information, as well as connect with other users in their area.
One of the unique features of Badoo is the ability to search for users by location, age, interests, and other filters. This means that users can find matches who share their interests and values, and who are also located nearby. Additionally, Badoo uses a swiping system similar to other dating apps, where users can swipe left or right to indicate whether they are interested in a potential match. If two users swipe right on each other, they are considered a "match" and can start chatting with each other.
Badoo also offers several premium features for users who want to enhance their experience on the app. For example, users can purchase "credits" that can be used to boost their profile visibility, send gifts to other users, or unlock additional filters to refine their search results. Badoo also has a "verified" feature, where users can confirm their identity by submitting a photo or video of themselves to the Badoo team.
However, like many dating apps, Badoo has faced criticism over issues such as fake profiles, spam messages, and inappropriate content. In response, Badoo has implemented several measures to combat these issues, including strict profile verification requirements and automated tools to detect and remove spam accounts. Badoo also has a reporting feature that allows users to flag inappropriate content or behavior, and a team of moderators who review these reports and take action when necessary.
Despite these challenges, Badoo remains a popular choice for those seeking to connect with new people and find potential romantic partners. Its global reach, wide range of features, and free access make it an attractive option for those looking to dip their toes into the world of online dating. Whether users are looking for casual encounters or serious relationships, Badoo offers a platform for them to connect with others who share their interests and values.
How does Badoo work?
Badoo is a dating app that uses a matching algorithm to connect users based on their preferences and location. After creating a profile, users can swipe through potential matches and send messages to those they are interested in. Badoo also offers additional features such as a "People Nearby" search, where users can see who is currently in their area and potentially meet up in person.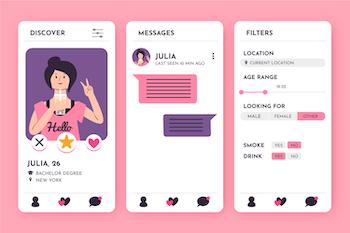 To keep the platform safe, Badoo uses a verification system to confirm the identity of users, and also offers a reporting and blocking feature for any suspicious behavior. Additionally, Badoo offers a premium subscription option that unlocks additional features such as the ability to see who has liked your profile and the ability to chat with new users before they match with you. Overall, Badoo offers a user-friendly interface and a range of features to help users connect with potential partners both locally and globally.
Is Badoo free to use?
Badoo is a freemium dating app, which means that the basic version of the app is free to use, but some additional features are available only to users who have a paid subscription. With the free version, users can create a profile, browse other profiles, and message other users who have matched with them. However, certain features such as seeing who has liked your profile or sending messages to users who have not yet matched with you require a paid subscription. Badoo also offers virtual gifts that users can purchase with real money to send to other users.
It is worth noting that Badoo's pricing and features vary by country, so users in different regions may have access to different features or may be charged different amounts for premium subscriptions. Additionally, some users have reported that Badoo can be quite aggressive in its upselling tactics, prompting users to purchase premium subscriptions more frequently than other dating apps. Overall, while the basic version of Badoo is free to use, users who want access to all of the app's features may need to pay for a subscription.
Is Badoo Safe?
Badoo has implemented various security measures to ensure the safety of its users. They have a strict verification process that includes photo verification and phone number verification to confirm the identity of their users. Users also have the option to connect their social media accounts to their Badoo profiles for further verification.
Badoo has also implemented features such as private messaging and the ability to block and report users who display inappropriate behavior. They also have a dedicated team that reviews reported profiles and takes appropriate action, such as banning or removing users who violate their terms of service.
However, it is important to remember that no online platform can guarantee 100% safety. Users should always exercise caution when interacting with strangers online and follow basic safety guidelines such as not sharing personal information, meeting in public places, and trusting their instincts.
Can I use Badoo while traveling?
Yes, you can use Badoo while traveling. Badoo is available in over 190 countries and has millions of users worldwide, so it's a great way to meet new people while on the go. You can change your location in the app to find matches in your current location or in a different city or country.
However, it's important to keep in mind that using dating apps while traveling can come with some risks. It's always a good idea to take basic safety precautions, such as meeting in a public place and letting someone know where you're going. Additionally, be aware that some users may not be who they claim to be or may have malicious intentions. Use caution and trust your instincts when using any dating app, especially in a new and unfamiliar location.
How do I create a successful profile on Badoo?
Choose a clear and attractive profile picture that accurately represents you. Make sure it's a recent photo, and avoid using group photos or pictures with filters.
Fill out your profile information completely and accurately. This includes your interests, hobbies, and what you're looking for in a relationship. The more information you provide, the more likely you are to attract compatible matches.
Be honest about your intentions. If you're looking for a serious relationship, make that clear in your profile. If you're just looking for casual dating or friendships, be upfront about that as well.
Use correct grammar and spelling. Poor grammar and spelling mistakes can be a turnoff for potential matches, so take the time to proofread your profile before publishing it.
Be active on the app. This means regularly checking and updating your profile, responding to messages, and reaching out to potential matches. The more active you are, the more likely you are to meet someone compatible.
Don't be afraid to showcase your personality. Badoo allows you to add videos and stories to your profile, so take advantage of these features to showcase your personality and interests.
Be respectful and considerate when messaging potential matches. Avoid using pickup lines or making inappropriate comments, and take the time to get to know someone before asking them out on a date.
Apps like Badoo?
Tinder – a popular dating app that allows users to swipe left or right on potential matches and message each other if they both swipe right.
Happn – a dating app that matches users based on their location and allows them to connect with people they have crossed paths with in real life.
OkCupid – a dating app that uses a detailed questionnaire to match users based on their interests and values, and allows them to message each other for free.
Zoosk – a dating app that uses behavioral matchmaking technology to learn about users' preferences and suggest compatible matches.
Coffee Meets Bagel – a dating app that sends users one "bagel" (potential match) per day at noon, based on their preferences and profile information, and allows them to connect and chat if they both express interest.