Match Group, operating under NYSE: MTCH recently released their earnings report on May 2nd.
Summary of shareholder letter by Bernard Kim the CEO of MTCH: The company has been focusing on improving organizational dynamics and product and marketing execution for Tinder. The changes are expected to lead to greater momentum and improved financial performance, positioning Tinder for long-term growth. Hinge continues to perform well, with strong brand story and monetization opportunities. The company plans to invest in AI and new technologies to drive long-term growth, while maintaining a strong balance sheet and returning cash flow to shareholders.
Business trends highlights: Match Group reported a 1% YoY decline in total revenue in Q1 2022 due to a 3% decline in payers, but offset by a 2% increase in RPP. Revenue initiatives began to contribute as expected in Tinder, while Hinge saw a 27% YoY growth in direct revenue. MG Asia direct revenue declined 13% YoY, while Evergreen & Emerging direct revenue was down 8% YoY. Despite a revenue shortfall, the company achieved stronger expense discipline, with Q1 adjusted operating income of $263 million, down 4% YoY.
Tinder summary: Tinder ran a brand campaign called It Starts with a Swipe™ and is testing weekly subscriptions. Tinder is executing well on its 2023 roadmap, including new product features, improvements to the ecosystem, and additional monetization features. The focus of Tinder's product evolution is improving women's user experience through relevancy, realness, and respect. Tinder is targeting new and lapsed users through exciting features and product experiences, including in less developed markets with significant user growth potential.
Hinge summary: Hinge has seen rapid growth in Europe, with high levels of downloads in the UK, Germany, and other key markets. The company shared that German localization was one of the biggest contributing factors to Hinge's success. Hinge plans to launch targeted marketing efforts in Italy, Spain, and the Netherlands in Q2. The app's recent introduction of new subscription tiers, HingeX and Hinge+, has been successful, with approximately 20% of new users opting for the premium HingeX tier. Hinge's growth and monetization have been fueled by its expanding user base in English-speaking markets, as well as its expansion into new European markets.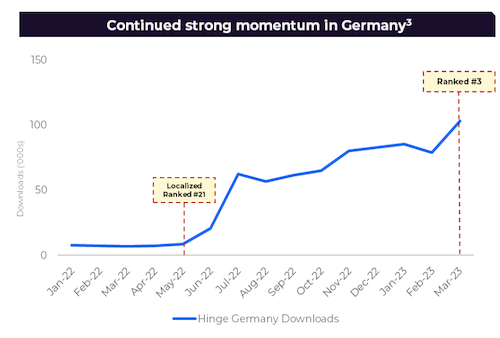 MTCH in Asia Summary: Hyperconnect has been working on product improvements for its main revenue driver, Azar, including enhancements to its matching algorithm and the introduction of a new monetization feature called Supermatch. This has led to accelerating year-over-year direct revenue growth. The company is also focusing on improving profitability, targeting a 10% adjusted operating income margin for 2023. In Japan, while the dating market remains soft, Pairs continues to make product advances and retain its leading position. In March, Pairs was the only major dating app in Japan to grow year-over-year revenue due to several initiatives and marketing efficiencies.
Evergreen & Emerging Summary: Match Group has combined their Evergreen & Emerging brands and is focusing on reducing duplication efforts and leveraging existing talent and systems. The company is seeing continued growth opportunities in their Emerging brands, and they have identified an opportunity for a new app in a large addressable market that Match Group currently does not directly serve. The company plans to launch the new app this summer and is optimistic it will be superior to existing offerings in the space.
Capital Structure and Allocation summary: Match Group aims to grow returns for its shareholders while investing in the business and maintaining a strong credit profile. The company targets a net leverage of under 3.0x and expects to generate approximately $800 million in free cash flow this year. Match Group plans to return at least half of its free cash flow to shareholders via share buybacks and/or dividends and will deploy the remainder to drive organic growth, strengthen the balance sheet, and make acquisitions. The Board of Directors has approved a new share repurchase authorization of $1 billion to replace the current authorization.
Q2 and FY 2023 Financial Outlook summary: For Match Group's Q2, they expect Total Revenue of $805 to $815 million, up 1% to 3% Y/Y. They expect Direct Revenue at Tinder to be up low single digits Y/Y, with a one-point Y/Y headwind from foreign exchange rates. Match Group expects moderating Y/Y declines in Direct Revenue at both Pairs and Hyperconnect, driven by ongoing initiatives and product improvements. Additionally, they expect to increase marketing spend and incur approximately $4 million in severance and similar costs in Q2. Match Group remains confident that the Company's Total Revenue and Tinder Direct Revenue can both exit 2023 with double-digit Y/Y growth.
Here's where to find it: link
We'll keep you posted on updates here as we hear them. Sign up to our newsletter so you don't miss any of the latest news in the dating world.
-TWOD team
Disclaimer: The information provided herein is for general informational purposes only and should not be considered investment advice or a recommendation to buy or sell any securities. The information is not tailored to the specific circumstances, investment objectives, financial situation, or needs of any particular person. You should not rely on this information as the sole basis for any investment decision. Before making any investment, you should carefully consider your investment objectives, level of experience, and risk tolerance. Any reliance you place on such information is strictly at your own risk. The past performance of any investment, strategy, or security is not necessarily indicative of future results. Trading and investing involve a substantial risk of loss and are not suitable for everyone. We do not guarantee the accuracy or completeness of the information provided, and we shall not be responsible for any errors or omissions in the information provided.